Dashboard Indicator Lights

Technology That Monitors Itself and Communicates
Your MINI is actively monitoring itself, which can cause indicator or warning lights to appear in a variety of combinations and colors. These indicators communicate driving information, system updates, and warnings. When you first start your MINI's engine, all the warning or indicator lights will temporarily light as the vehicle's systems are checking for proper functioning. If necessary information needs to be communicated, the corresponding lamp does not disappear after the engine is started. Warning or indicator lights can also light up during your drive. Below are several categories of dashboard indicator lights along with their meaning.
Red: Stop Immediately

This warning means the battery is no longer being charged, which indicates a defective alternator drive belt or a problem with the charge circuit.

If this lights up when the parking brake is released, it indicates you need to check the brake fluid level of your MINI.

This is a coolant temperature warning, which will light up while driving. This warning indicates the engine is too hot. Turn off your MINI's engine immediately, and allow it to cool down.

This indicator monitors engine oil levels. If this appears, stop your MINI immediately and switch off engine. Check the engine oil and fill as needed.
Red: Important Reminder

This light indicates the MINI airbag system needs to be inspected at your MINI Dealer.

If this lights when the parking brake applied, it acts as a reminder to release the brake.

This is a reminder to fasten your seat belt, which is usually accompanied with a sound.

If this indicator appears, your MINI's steering system is not working. Have the system checked by a MINI dealer's service center.

These indicators illuminate when the hood or trunk are open.
Yellow: Stop Immediately

This indicator means the tire monitor is detecting a flat tire. If this lights up, reduce your speed immediately until your vehicle comes to a complete stop. Make sure your stopping point is a safe area. With Run Flat tires, carefully reduce the driving speed to below 50 miles per hour and continue traveling to a safe location. In both cases, avoid hard brake applications and sudden steering maneuvers.

A brake warning light together with a yellow indicator lamp for ABS, CBC, EBD and ASC/DSC means the control system ABS, CBC, EBD and ASC/DSC has failed. Drive cautiously and defensively. Avoid full brake applications. Please have the system checked by your MINI Dealer as soon as possible.
Yellow: Check as Soon as Possible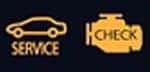 If these lights appear, either continuously or intermittently, there is a malfunction in the emissions related electronic systems. Your MINI will remain operational, but you should have the systems checked by your MINI Dealer at the earliest possible opportunity.

This is an indicator light related to the Dynamic Stability Controls, which control the driving and braking forces. If this light is flashing, reduce speed and modify your driving style to the driving circumstances. When this indicator lights up continuously, the DSC has malfunctioned, so have the system checked by your dealer's service department.

When this light appears, the braking force boost may not be working. When driving, take an extended distance to brake and avoid abrupt braking. Have the system immediately checked by your MINI dealer's service department.
For Your Information

This indicator communicates the turn signal is switched on. Rapid flashing of the indicator light communicates a turn signal bulb failure.

When this light appears, your MINI's high beams are activated.

This indicator means the High-beam Assistant of your MINI is switched on. The High-beam Assistant switches the high beams on and off automatically depending on the traffic situation.

This indicator means the fog lights are switched on.

When you see this indicator, parking lights or headlights are activated.
Your safety is our priority, which is why we stress that that you pay attention to the MINI dashboard warning lights. It's important to familiarize yourself with this MINI light guide.
In most cases, if the MINI dashboard symbols are yellow, schedule a service appointment at your earliest convenience. If any of the lights are red, stop everything and immediately take your car to our MINI Service Department, because nothing is more important than your safety.